All-weather Precision Farming -- A GNSS Land Leveling Case from India
---
Background
Agriculture, as an important part of the Indian economy, has occupied more than 60% of the total labor force. However, it contributes to less economic growth for various constraints, of which irrigation method is the major one. At present, flood irrigation is still the popular irrigation method, accounting for 35% of total agricultural land. In order to make full use of water resource and facilitate automated agriculture, the demand for high accuracy land leveling arises rapidly.

Traditional land leveling method only employs manual stakeout, which usually needs lots of time and manpowerbut the accuracy is low. The laser leveling method, although can improve the accuracy and efficiency, it is largely affected by foggy, rainy weather and obstacles.
With the development of GNSS technology, GNSS land leveling method which can overcome the shortcomings of previous methods has become more and more popular.
Benefits
All-weather Operation: 7/24 operation and not affected by extreme weather.
High-precision Leveling: With high-precision GNSS OEM modules, the vertical positioning accuracy is within ± 2.5cm.
Full Use of Resources: Maximize the utilization of water and land and create conditions for automated agriculture.
Equipment
K708 GNSS OEM Module
AT340 Geodetic Antenna
Application
Since 2017, ComNav Technology has cooperated with the local company in Gujarat, India to develop and promote the advanced GNSS land leveling system in India.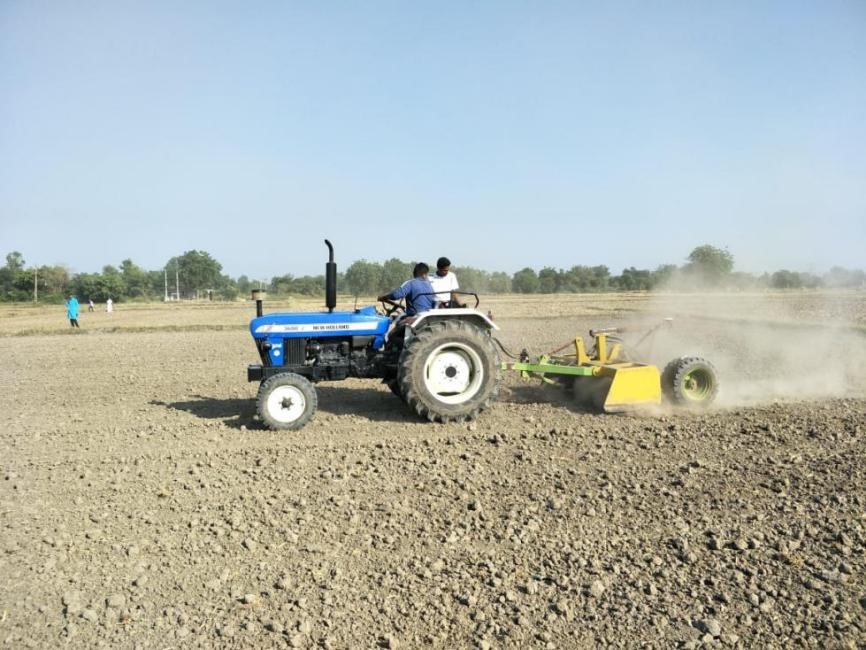 Generally, the horizontal accuracy of GNSS positioning is higher than vertical accuracy; however the land leveling depends much on the vertical accuracy, which requires improvement to GNSS equipment. As is shown in the figure below, the vertical accuracy of K708 is within ±5cm. This can meet most demands of users.

In order to satisfy the market demand for higher accuracy, the R&D team of ComNav Technology came up with the solution to improve the positioning capability by adding the newly-updated BeiDou Global signals and optimizing RTK algorithm. After the improvement, the vertical accuracy of K708 reached ±2.5cm as illustrated below. This improvement contributes to the development of GNSS land leveling system in India market. It also promoted the agricultural mechanization to a large extent.

A strong alliance of an industry-leading high-precision GNSS company and an experienced agricultural land leveling company has made the GNSS leveling system well-developed and widely-used in the India market. For more information, please refer to K708 OEM board and AT340 geodetic antenna.
About ComNav Technology
ComNav Technology is the major provider of GNSS OEM boards, receivers and high precision positioning solutions, encompassing product development, and marketing. Its technology and products have already been applied in a wide range of fields such as surveying, construction, machine control, agriculture, intelligent transportation, precise timing, deformation monitoring, and unmanned system. With its experienced team and innovational spirit, ComNav Technology is always trying best to provide reliable and competitive products to global customers. ComNav Technology has been listed on the Shanghai Stock Exchange (Science and Technology Board), securities :ComNav Technology (Compass Navigation), Stock code: 688592.
About SinoGNSS®
SinoGNSS® is the official trademark of ComNav Technology Ltd., registered in People's Republic of China, EU, USA and Canada. All other trademarks are the property of their respective owners.