Except for SinoGNSS T/N series receivers mainly used for land survey, ComNav Technology has also introduced 3 levels of GNSS receivers for reference stations, including M300 Plus, M300 Pro and M300 Pro II, which can be used in CORS network, deformation monitoring and etc.
M300 Pro GNSS receiver was first released in 2015. As a high-end product, it improves in both performance and user experience. With upgradable firmware, M300 Pro currently can still track all running and planned signals. Featured abundant interfaces for flexible transmission and web server for easy configuration, M300 Pro can provide world-class positioning solutions for global CORS network and other applications.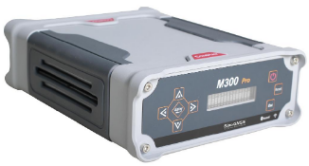 In order to meet different levels of demands, ComNav Technology came out with a more cost-efficient product – M300 Plus GNSS receiver. Compared with M300 Pro, M300 Plus isn't equipped with the front panel and internal battery, but still remains the powerful signal tracking capability, which can fully satisfy the requirements of privately-running CORS, monitoring and etc.
With the development of GNSS industry and the trend of IoT, the high precision positioning CORS service is becoming more necessary. With this forward-looking vision, ComNav Technology introduced M300 ProII GNSS receiver. Adding an optical fiber interface and password-protected TF-card on the basis of M300 Pro, it provides a seamlessly upgraded high-precision service solution for global telecom providers.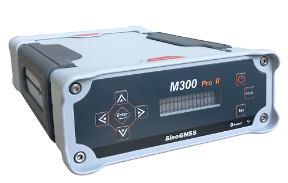 With strong performance and flexible compatibility, SinoGNSS products can completely meet your demands of high-precision positioning services. Come and find your reference station!
SinoGNSS Products

For Your Reference Stations

M300 Plus

M300 Pro

M300 Pro II

Signal Tracking

Channels

574

GPS

L1, L2, L5

BeiDou

B1, B2, B3

BeiDou Global

BIC, B2a

GLONASS

L1, L2

Galileo

E1, E5a, E5b

QZSS, L-Band, MSAS

Positioning Specifications

Post-processing static

2 mm + 0.5 ppm H

4 mm + 0.5 ppm V

Realtime Kinematic

8 mm + 1 ppm H

15 mm + 1 ppm V

Communications

Event

+

+

+

PPS

+

+

+

oscillator input

+

+

+

4G

+

+

+

Ethernet

+

+

-

Optical fiber

-

-

+

Interface

GNSS antenna

1

1

1

Serial port

1

1

1

USB

1

1

1

Lemo port

3

3

3

Data Logging

Raw data recording channel

3

5

5

Data format

RINEX 2.X, 3.X, ComNav Binary

Max output rate

20Hz

20Hz

20Hz

Physical

User interface

4 LED lights

- LCD front panel display

- 4 arrow keys and data entry

- Power button, reset button & esc button

Size

225×176×67 mm

202×163 ×75 mm

267×176×67 mm

Battery

-

+

+

Power input

7 - 36 VDC

9.5 - 28 VDC

-18 - -75VDC

More Information