A200 Dual Antenna Heading Receiver was launched by ComNav Technology
---
Shanghai, China - 3rd May, 2023 - ComNav Technology Ltd. (ComNav) launched A200, the dual antenna heading receiver. The A200 is designed for precision agriculture, machine control, fleet management, robots and other industries.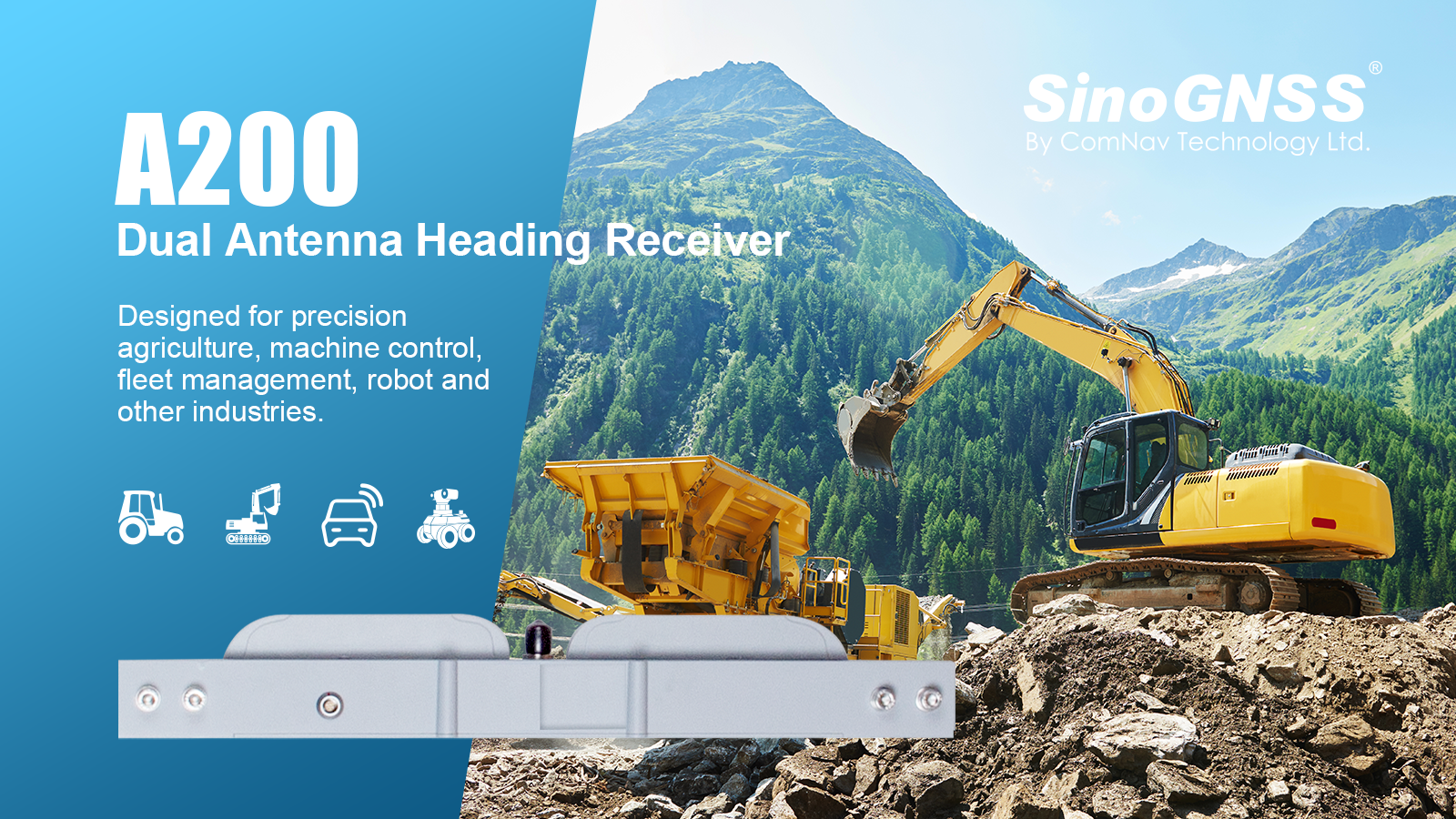 As an all-in-one RTK capable heading solution, the A200 is equipped with K823 GNSS module, which is a dual antenna dual-frequency and full-constellation OEM board with IMU module. Featuring 1226 channels, the A200 can track all existing and planned satellite systems, including GPS, BSD, GLONASS, Galileo, QZSS, SBAS, providing RTK-level position and precise heading to its customers. The third generation IMU delivers fast initialization and ensures the output of heading during temporary GNSS signal loss. The built-in data link has low power consumption and a long working range. It can also be upgraded to a super-long-range data link module.
Compared with other rivals, the A200 stands out with its small size and light weight, making installation easy even for beginners. Simply connected with a single cable, it offers consistent and reliable position and heading accuracy.
Due to the demanding application scenario, the A200 adopts aluminum-magnesium alloy housing, and can survive a 2m drop onto concrete. IP67 waterproof and dustproofness makes it compliant solution for various harsh environments. Meanwhile, the A200 is able to work and store even in environment with extreme temperature from -30℃ to 65℃.
The A200 now is available through ComNav Technology authorized local distributors or ComNav Technology directly.
Learn more about A200, click here.
About ComNav Technology
ComNav Technology develops and manufactures GNSS OEM boards and receivers for high precision positioning demanded applications. Its technology already been used in a wide range of applications such as surveying, construction, machine control, agriculture, intelligent transportation, precise timing, deformation monitoring, unmanned system. With a team dedicated for the GNSS technology, ComNav Technology is trying its best to supply reliable and competitive products to worldwide customers. ComNav Technology has listed on the China National Equities Exchange and Quotations (NEEQ), Securities: ComNav Technology (Compass Navigation), Stock code: 833972.
About SinoGNSS®
SinoGNSS® is the official trademark of ComNav Technology Ltd., registered in People's Republic of China, EU, USA and Canada. All other trademarks are the property of their respective owners.