ComNav Attended Intergeo 2014
---
Shanghai, China, October 15, 2014—From October 7 to 9, INTERGEO 2014 the world's largest conference and leading trade fair in the field of geodesy, geo-information and land management was held in Messe Berlin, Germany. As the first high accuracy GNSS OEM board manufacturer and positioning solutions provider in China, ComNav Technology Ltd. attended the this event and showcased its full range products including the K series GNSS OEM Boards, GNSS receivers, CORS solutions, deformation monitoring solutions and the new designed GNSS receiver and radio.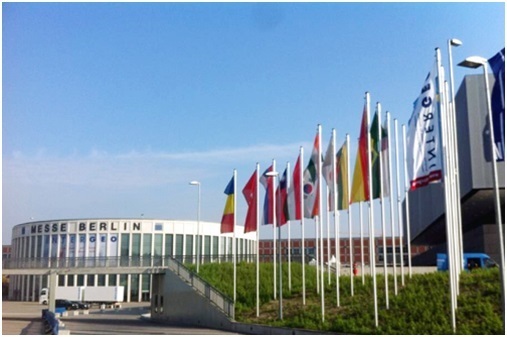 INTERGEO 2014, Messe Berlin, Germany
Among various GNSS products ComNav showcased in the exhibition, T300 RTK receiver, newly released K528 two antennas GNSS OEM board and the latest ASIC board were the most brilliant pearls in the show.
The newly developed K528 GNSS board has two antennas input on one board and it could output the heading and positioning data in the same time which can be used for some applications where heading is critical. The latest ComNav ASIC board further improves the power consumption and computational efficiency. The GNSS OEM Board attracted lots of people especially from field of UAV, Machine Control, land surveying and academic research institute.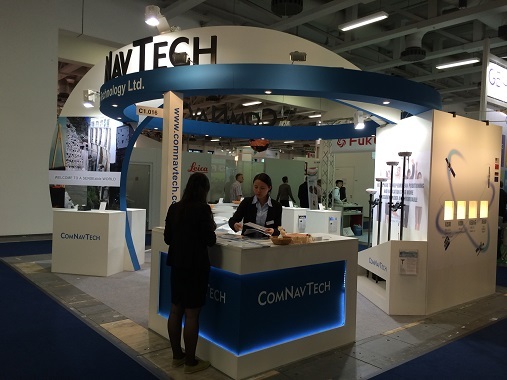 ComNav Booth
ComNav's T300 GNSS receiver is an ideal product which combines lots of market proved advantages together, ultra-small and light, hot-swappable batteries and simple internal structure. The unique design attracted a lot of people stopping by ComNav's booth and would like to see the performance of T300. After demonstration, all people spoke highly of it and some of them placed the order in the booth immediately. ComNav's GNSS technology has already been at the forefront in this field.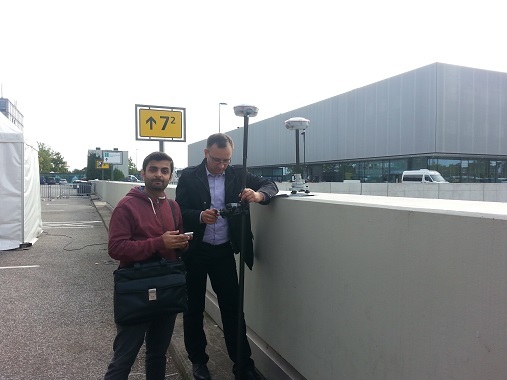 Demonstration Was Going On Outside of the Exhibition Hall
As a GNSS solutions provider, ComNav is always ready to support surveyors with most efficient instruments. Also, ComNav would be pleasure to cooperate with integrators all over the world and share GNSS technologies to benefit more people. This was the second time ComNav attended the Intergeo, and ComNav will surely continuously attend the show every year to bring the cost effective and reliable products to the customers in the world.
About INTERGEO
INTERGEO the world"s largest conference and leading trade fair in the field of geodesy, geo-information and land management celebrated its 20th anniversary in Berlin Germany. With 20 years' development, it has become the biggest national and international communication hub concerning topical social issues with a geo-information dimension such as new energy policy, climate change, and demography.
About ComNav
ComNav develops and manufactures GNSS OEM boards and receivers for high precision positioning demanded applications. Its technology already been used in lots of applications such as surveying, construction, machine control, agriculture, intelligent transportation, precise timing, deformation monitoring, unmanned system and so on. With a team dedicated for the GNSS technology, ComNav is trying its best to supply the reliable and competitive products to worldwide customers.