ComNav Showcased in IGF 2015
---
Shanghai, China, February 15, 2015—From February 10 to 12, India Geospatial Forum 2015, the India's largest conference and leading trade fair in the field of geospatial industry was held in Hyderabad. As the first high accuracy GNSS OEM board manufacturer in China, ComNav Technology Ltd. attended this event and showcased its K series GNSS OEM Board and GNSS receivers.
Among various GNSS products ComNav showcased, T300 RTK receiver and K series GNSS OEM Boards with GAGAN tracking ability are the most eye-catching ones in the exhibition.
ComNav's T300 GNSS receiver is an ideal product which combines lots of market proved advantages together, ultra-small and light, hot-swappable batteries and simple internal structure. The unique design attracted a lot of people stopping by ComNav's booth and would like to see the performance of T300. During the show, ComNav staff did the demonstration for the interested visitors and they all were impressed by the performance, especially they were surprised to see lots of satellites in one time because of China BeiDou Satellite Navigation System coverage. In India, most of the time there has 8-10 BeiDou satellites in the sky which is a big plus for the RTK performance especially for harsh environment.
The GPS aided geo augmented navigation or GPS and geo-augmented navigation system (GAGAN) is an implementation of a regional satellite-based augmentation system (SBAS) by the Indian government. It is a system to improve the accuracy of a GNSS receiver by providing reference signals. Some research institutions and Indian government departments, including the one who is involved in the GAGAN development, showed their interests of ComNav's products. As requested ComNav delegates also demonstrated the performance of the K series boards with the GAGAN signal, visitors were quite satisfied with the testing result.
This was the first time ComNav showcased in India, and ComNav will surely continuously attend this show to bring the cost effective and reliable GNSS products to the Indian customers.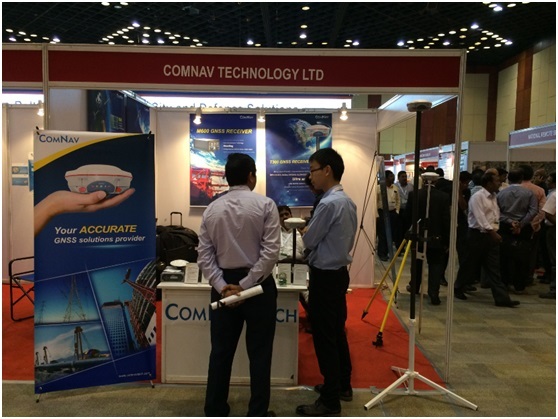 ComNav Booth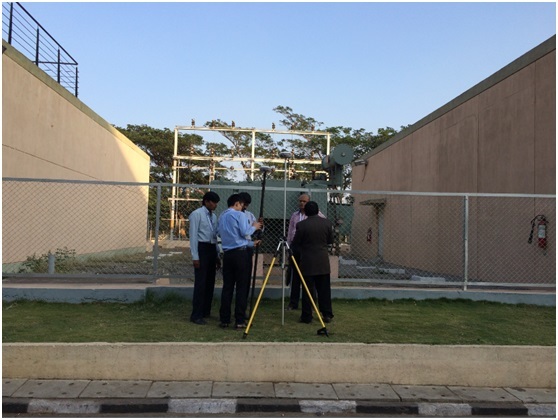 Demonstration
About India Geospatial Forum
Over the years, India Geospatial Forum, organized by Geospatial Media & Communications, has emerged as the premier annual conference for the Indian geospatial industry. As geospatial technology continues to grow in importance and influence in India, this conference plays an integral role in keeping the professionals and users across the country connected and educated.
About ComNav
ComNav develops and manufactures GNSS OEM boards and receivers for high precision positioning demanded applications. Its technology already been used in lots of applications such as surveying, construction, machine control, agriculture, intelligent transportation, precise timing, deformation monitoring, unmanned system and so on. With a team dedicated for the GNSS technology, ComNav is trying its best to supply the reliable and competitive products to worldwide customers.