Invited by CSNO ComNav Showcased in INNOPROM 2015
---
ShangHai, China, July 22, 2015 – On July 7, 2015, INNOPROM 2015 was held in Yekaterinburg, Russia. China was invited as the guest of honour to attend this exhibition of innovation. As the leading high precision GNSS manufacturer, ComNav Technology Ltd. was invited by China Satellite Navigation Office as the member of the BeiDou delegation to showcase the high precision GNSS products with applications in BeiDou Navigation Satellite System booth. It"s worth mentioning that only the real GNSS manufacturers with own developed technologies were invited by CSNO this time. And it is honour for ComNav to attend this show.
BeiDou Showcase Booth
Among various GNSS products ComNav showcased, T300 RTK Receiver and M300 Pro CORS Receiver with BeiDou full satellites tracking ability are the most eye-catching.
ComNav T300 GNSS Receiver is an ideal product which combines lots of market proved advantages together, ultra-small and light, hot-swappable batteries and simple internal structure. ComNav M300 Pro CORS Receiver is a powerful product for CORS construction. It has been integrated with Web-based GUI, internal battery, and abundant connector interface, including LAN, USB, RS232, LEMO-USD, LEMO-RS232, Event, PPS, External Clock, WIFI, etc. Except from receivers, ComNav also showcased its combined GNSS (GPS, GLONASS and BeiDou) OEM board, which has been integrated by other famous RTK producer and widely used for many applications like land surveying, monitoring, UAV, mechanical control, Intelligent transportation, precision agriculture etc.
Many companies from Russia affirm the value of ComNav GNSS Receivers and GNSS OEM boards. They expressed their intension to cooperate. ComNav was also invited to attend the dialogue between the Russia and Chinese companies to introduce the company, products and solutions. The Russian counterparts were excited to know ComNav, they would like to try the ComNav products with BeiDou. According to ComNav Russian users' feedback, in most parts of Russia ComNav receivers can receive 4-6 BeiDou satellites which could enhance the reliability and performance of GNSS products a lot.
In order to drive the development of BeiDou Satellite Navigation System, Vice Premier of PR China Mr. Wang Yang visited BeiDou booth and talked with Mr Ran Chengqi - Director of China Satellite Navigation Office. Obviously, the government of China also attaches importance to the development of BeiDou Technology. In the next few years, BeiDou application will soon open a new chapter in Russia and ComNav will be never absent from the feast.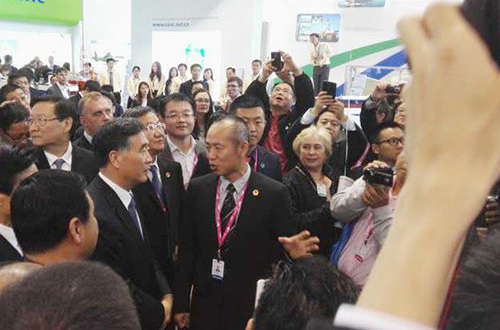 Mr. Wang Yang, Vice Premier of PR. China visited BeiDou Booth
About INNOPROM
INNOPROM is annual held in Ekaterinburg since 2010. The principles of INNOPROM is to organize a trade fair rooted in the priorities driving world industry and technology at present – and on the priorities that underpin Russia"s program of industrial and manufacturing development. INNOPROM sets out a platform for international cooperation. The agenda of INNOPROM events is shaped by the interests and opinions of industry experts. The sharply-focused events within the scope of INNOPROM are themed around the most pressing issues. Globally-respected experts give their input and insight on pivotal matters of concern.
About ComNav
ComNav develops and manufactures GNSS OEM boards and receivers for high precision positioning demanded applications. Its technology already been used in lots of applications such as surveying, construction, machine control, agriculture, intelligent transportation, precise timing, deformation monitoring, unmanned system and so on. With a team dedicated for the GNSS technology, ComNav is trying its best to supply the reliable and competitive products to worldwide customers.