ComNav Technology High-accuracy GNSS OEM Board was Awarded Silver Award for Innovation in CIIF 2016
---
Shanghai, China, November 8, 2016 — From 1st–5th November, The 18th China International Industry Fair (CIIF) was held in National Exhibition and Convention Center, Shanghai, China. Along with successful delivery of the 100000th GNSS OEM board, ComNav Technology was also awarded silver award for innovation by the 18th session China International Industry Fair.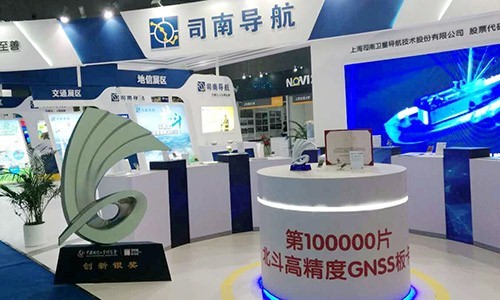 ComNav Technology Booth with silver award for innovation
As the leading brand trade show for manufacturing industry, CIIF aims to encourage enterprises with capability of advanced manufacturing, independent innovation as well as extensive market prospect. It was honor that ComNav Technology GNSS OEM board got awarded and became one of most innovative products in CIIF 2016.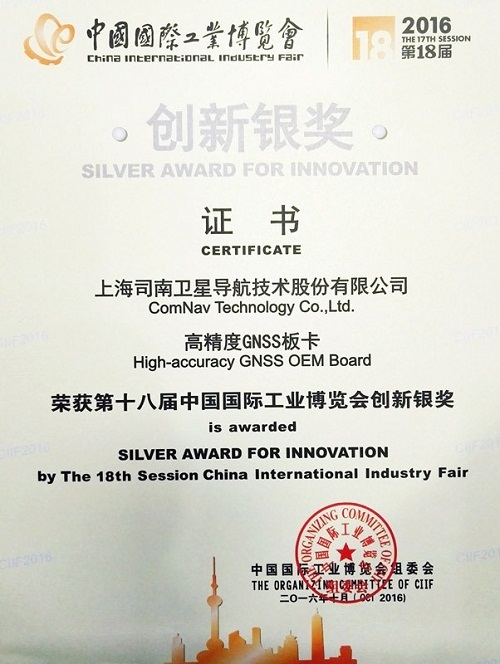 The certificate of silver award for innovation
Focus on High-accuracy GNSS technology, the high-end branch of navigation terminals, ComNav Technology GNSS products have been used in a wide range of applications, including land survey, deformation monitoring, precision agriculture and scientific researches. Moreover, ComNav Technology continues to improve GNSS core algorithm, OEM board, receivers and relevant applications, forward to become the global leading enterprise in high-accuracy GNSS field in the near feature.
About CIIF
Since CIIF's launch in 1999, CIIF has become one of the most influential international industry brand exhibition in China, through implementing "professionalization, marketization, internationalization and branding" as its strategies for over 16 years. CIIF, an UFI approved event, is a leading event for manufacturing in China as well as an important window and platform open to the world for international trade, communication and cooperation on industrial scope.
About ComNav Technology
ComNav Technology develops and manufactures GNSS OEM boards and receivers for high precision positioning demanded applications. Its technology already been used in a wide range of applications such as surveying, construction, machine control, agriculture, intelligent transportation, precise timing, deformation monitoring, unmanned system. With a team dedicated for the GNSS technology, ComNav Technology is trying its best to supply reliable and competitive products to worldwide customers. ComNav Technology has listed on the China National Equities Exchange and Quotations (NEEQ), Securities: ComNav Technology (Compass Navigation), Stock code: 833972.
About SinoGNSS®
SinoGNSS® is the official trademark of ComNav Technology Ltd., registered in People's Republic of China, EU, USA and Canada. All other trademarks are the property of their respective owners.