ComNav Technology Brought integrated GNSS Solutions to FIG Working Week 2017
---
Shanghai, China, June 12, 2017—From May 29th to 1st, FIG Working Week 2017 took place in Helsinki Finland. Built around the theme of "Surveying the world of tomorrow— From digitalization to augmented reality", more than 1200 participants from around 100 countries attended this three-day surveying conference. As a leading high-precision GNSS solutions provider, ComNav Technology Ltd. attended FIG four successive years, bringing advanced GNSS solutions and brand new K7-series GNSS OEM boards to the global.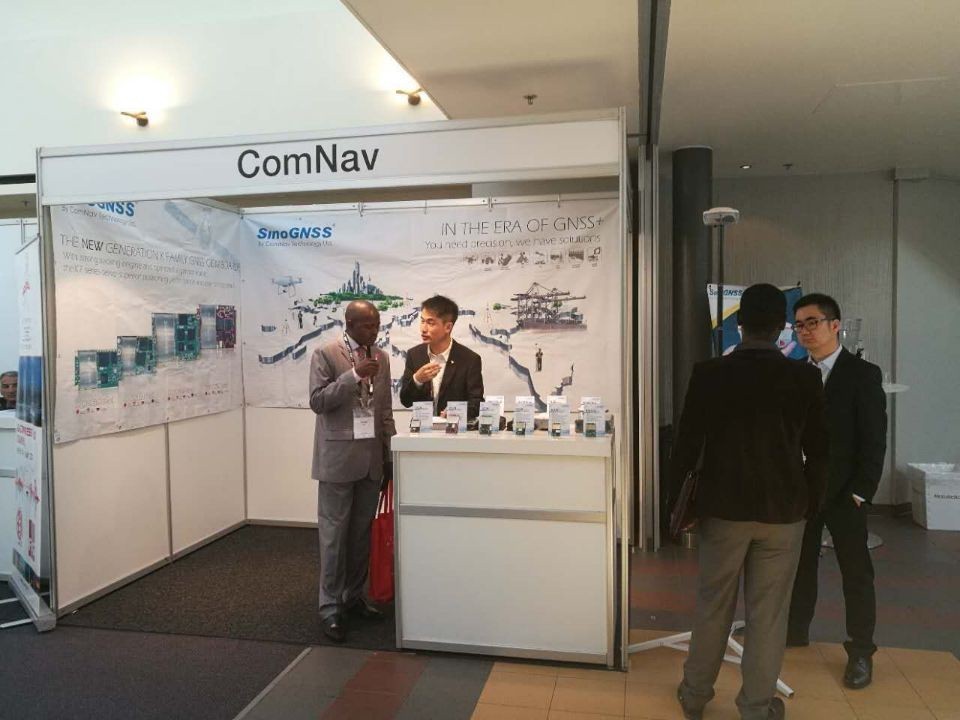 ComNav Technology Booth
Most ComNav Technology staff are from land surveying and land surveying is always a very important sector for the company business. As the GNSS industry enters an era of GNSS+, customers are not only pursuing the single GNSS products, but also integrated GNSS solutions for various industries. ComNav Technology had been in FIG for many years, the purpose is trying to bring the latest technologies and innovations to the surveyors, the idea is not only limited on the land surveying solutions but also need to give them the ideas on other applications so as they could have more knowledge and also some business opportunities. In the same time, ComNav Technology also knows the young generation is the future and since long time back, ComNav Technology started the ComNav Academic Fund, which is trying to support the students, young surveyors and researchers to work more on the GNSS innovations. ComNav Technology is also taking the social responsibility when developing the company.
About FIG
FIG is the premier international organization representing the interests of surveyors worldwide. It is a federation of the national member associations and covers the whole range of professional fields within the global surveying community. It provides an international forum for discussion and development aiming to promote professional practice and standards.
About ComNav Technology
ComNav Technology develops and manufactures GNSS OEM boards and receivers for high precision positioning demanded applications. Its technology already been used in a wide range of applications such as surveying, construction, machine control, agriculture, intelligent transportation, precise timing, deformation monitoring, unmanned system. With a team dedicated for the GNSS technology, ComNav Technology is trying its best to supply reliable and competitive products to worldwide customers. ComNav Technology has listed on the China National Equities Exchange and Quotations (NEEQ), Securities: ComNav Technology (Compass Navigation), Stock code: 833972.
About SinoGNSS®
SinoGNSS® is the official trademark of ComNav Technology Ltd., registered in People's Republic of China, EU, USA and Canada. All other trademarks are the property of their respective owners.