ComNav Technology introduces professional positioning solution for high-accuracy piling
---
Shanghai, China, August 14, 2017 — ComNav Technology announced to release professional positioning solution for high-accuracy piling, which is an easy-to-use piling system that able to deliver centimeter-level piling positioning accuracy for multiple construction applications. It largely boosts field productivity and increases quality of piling work.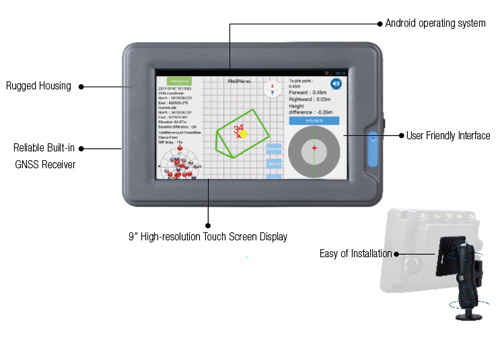 Professional Positioning Solution
It provides you a 9'' high-resolution tablet with integrated high-precision GNSS engine, a T300 GNSS receiver as the base, and two AT330 antennas with magnetic mounts combined with Pile Master software. Its integrated GNSS engine tracking GPS, GLONASS and BeiDou signals that enable the system to be work even in significant weather challenges, helping you reduce construction schedule.
This system supports flexible RTK correction, which is able to acquire correction via internal UHF by setting up SinoGNSS T300 as the base, it also allows you to connect local CORS to get correction. Moreover, PileMaster Software is designed with an intuitive piling interface with clear element management capability, supporting up to 10000 points import in Excel, TXT and CAD format, which meets your specific demands of high-precision piling project.
About ComNav Technology
ComNav Technology develops and manufactures GNSS OEM boards and receivers for high precision positioning demanded applications. Its technology already been used in a wide range of applications such as surveying, construction, machine control, agriculture, intelligent transportation, precise timing, deformation monitoring, unmanned system. With a team dedicated for the GNSS technology, ComNav Technology is trying its best to supply reliable and competitive products to worldwide customers. ComNav Technology has listed on the China National Equities Exchange and Quotations (NEEQ), Securities: ComNav Technology (Compass Navigation), Stock code: 833972.
About SinoGNSS®
SinoGNSS® is the official trademark of ComNav Technology Ltd., registered in People's Republic of China, EU, USA and Canada. All other trademarks are the property of their respective owners.