Show photos of you and SinoGNSS, Win the super prize
---
Shanghai, China, November 1st, 2017— ComNav Technology has today launched its first photo competition on Facebook, SinoGNSS worldwide users are invited to follow us on Facebook, submit entries and share your stories until 1st February 2018 to win a share of the massive $4400(USD)prize pool.
You are encouraged to show all formats of photography related SinoGNSS products. Please read carefully before posting your photos.
Eligibility: SinoGNSS users worldwide
Awards and Prizes
1st Prize (No. of Awards: 1)
•2,000 USD in cash, bank
2nd Prize (No. of Awards: 3)
•800 USD in cash, bank transfer to your account
3rd Prize (No. of Awards: 10)
•600 USD voucher for all SinoGNSS products, sent via Email
Note: Prizes and rewards are subject to change without notice, Vouchers are cannot be exchanged, transferred or redeemed for cash.
How to Enter
1.Follow ComNav Techcnology on Facebook.
2.Search tag #ShowyourSinoGNSSwithLove, Post photos of you and SinoGNSS products, share the story behind pictures on Facebook.
3.@ComNav Technology and get likes as many as possible..
Entry Period
1st November 2017 – 1st February 2018 (China standard time)
Submission Rules
Entry Format: At least three images with the story in one post on Facebook.
Photo Entries: Images created with any digital equipment including smartphones, cameras are accepted (JPEG/150 dpi format recommended).
Entry limits: You can submit maximum three posts with different photos, the post with the most likes will go for the prize.
Note: you may be requested to provide higher resolution images for SinoGNSS marketing purposes.
Judging
•Everyone who enters the contest need to get likes as many as possible, awards are decided according to the number of like, for example, the post with the most likes will win the 1st prize.
•If two posts own the same likes, they will be awarded the same prize.
•After the judging concludes, the winner list will be published on ComNav Technology official Website and Facebook by 10th February 2018.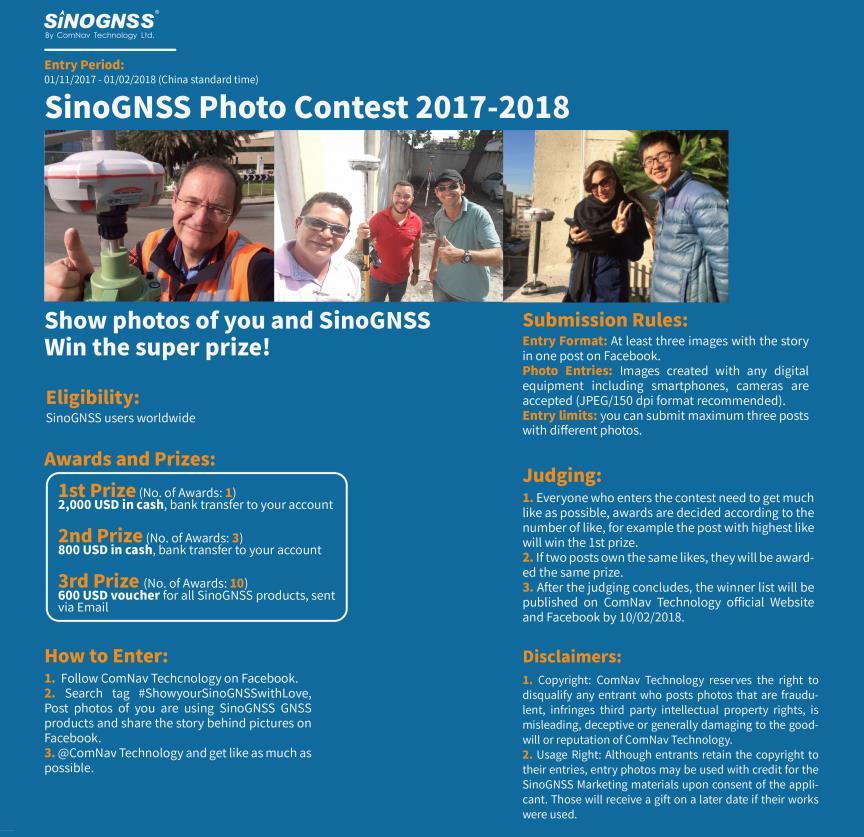 SinoGNSS Photo Contest
Disclaimers
•Copyright: ComNav Technology reserves the right to disqualify any entrant who posts photos that are fraudulent, infringes third party intellectual property rights, is misleading, deceptive or generally damaging to the goodwill or reputation of ComNav Technology.
•Usage Right: Although entrants retain the copyright to their entries, entry photos may be used with credit for the SinoGNSS Marketing materials upon consent of the applicant. Those will receive a gift on a later date if their works were used.
For more details: https://youtu.be/_z0PtlPUtkQ
About ComNav Technology
ComNav Technology develops and manufactures GNSS OEM boards and receivers for high precision positioning demanded applications. Its technology already been used in a wide range of applications such as surveying, construction, machine control, agriculture, intelligent transportation, precise timing, deformation monitoring, unmanned system. With a team dedicated for the GNSS technology, ComNav Technology is trying its best to supply reliable and competitive products to worldwide customers. ComNav Technology has listed on the China National Equities Exchange and Quotations (NEEQ), Securities: ComNav Technology (Compass Navigation), Stock code: 833972.
About SinoGNSS®
SinoGNSS® is the official trademark of ComNav Technology Ltd., registered in People's Republic of China, EU, USA and Canada. All other trademarks are the property of their respective owners.