ComNav Technology releases tutorial series for GNSS OEM boards
---
Shanghai, China, December 13th, 2017— As an Original Equipment Manufacturer (OEM) that develops and manufactures high-precision GNSS OEM boards and receivers, ComNav Technology is well known for our technical support services. To improve your work efficiency, we'd like to announce that we release tutorial series for GNSS OEM boards.
Following this video, you can quickly start SinoGNSS OEM boards everywhere only in 6 minutes. The video consists of 1).Unboxing the Evaluation Kit, 2).Set up the OEM Board, 3).Configure it as the Base, 4).Configure it as the Rover, 5).Export raw data file to your PC, 6).Convert raw data to RINEX.
Watch video here: https://www.youtube.com/watch?v=FJSnGFe2dK0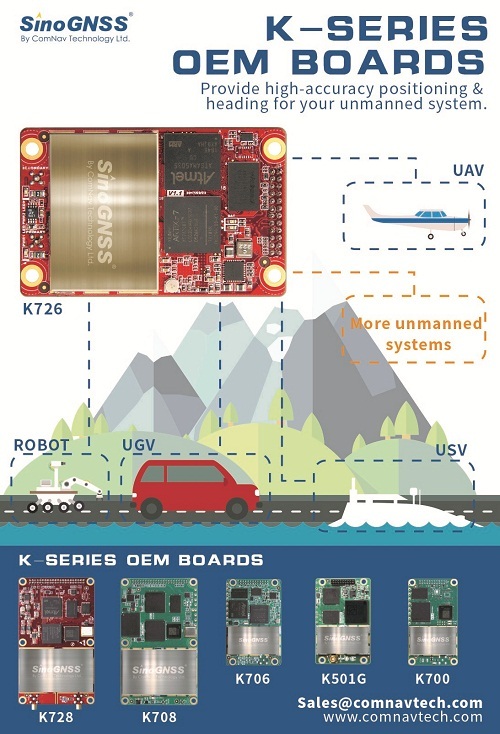 K-series OEM Boards
If you have further questions, feel free to contact us to oem.support@comnavtech.com.
More training videos are coming soon, Follow us on Facebook to stay up to date:
https://www.facebook.com/ComNav-Technology-Ltd-1462998887326179/
About ComNav Technology
ComNav Technology develops and manufactures GNSS OEM boards and receivers for high precision positioning demanded applications. Its technology already been used in a wide range of applications such as surveying, construction, machine control, agriculture, intelligent transportation, precise timing, deformation monitoring, unmanned system. With a team dedicated for the GNSS technology, ComNav Technology is trying its best to supply reliable and competitive products to worldwide customers. ComNav Technology has listed on the China National Equities Exchange and Quotations (NEEQ), Securities: ComNav Technology (Compass Navigation), Stock code: 833972.
About SinoGNSS®
SinoGNSS® is the official trademark of ComNav Technology Ltd., registered in People's Republic of China, EU, USA and Canada. All other trademarks are the property of their respective owners.