ComNav Technology showcases in GEO BUSINESS 2018
---
Shanghai, China, June 13th, 2018 - From May 22th to 23th, ComNav Technology showcases our advanced GNSS products and solutions at GEO Business 2018, London, UK, meeting face-to-face with geospatial professionals from over 50 countries.
ComNav Technology Booth
GEO Business is aiming to drive the next industrial revolution in Geospatial technology. During the event period, more than 3000 visitors from over 50 countries attended, involving in the gathering, storing, processing and delivery of geospatial information. During the event period, most of visitors showed their interest in GNSS integration applications, such as UAV, robotics and mobile surveying, so that our brand new K7-series GNSS OEM board drew a lot of audiences' attention. The K7-series GNSS OEM boards feature multi-constellation satellite signals tracking, new generation ASIC chip and super compact sized design, which will provide you better user experience in the future.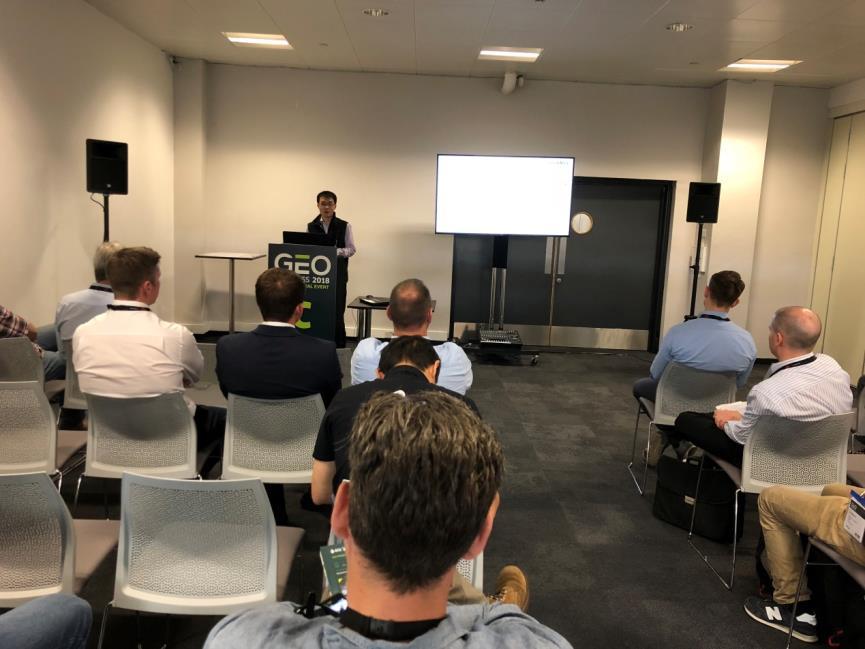 Geo Business commercial workshop
Moreover, thanks to GEO Business conference, it provides a platform for professionals to demonstrate the value that geospatial content brings to citizens and industry, as well as tackling the challenges the industry and the economy faces as we head in to the fourth industrial revolution. As one of high-tech enterprises, ComNav Technology introduced our latest chip innovation, and future planning in GNSS field, indicating that we would like to extend our business portfolio to the whole geospatial industry chain. We also expect to raise SinoGNSS brand awareness in European markets, especially in the English market.
About GEO BUSINESS
GEO BUSINESS is the UK's biggest geospatial exhibition and conference, it was launched in 2014, now is its fourth year. In this year, the show attracted a large contingent of international visitors from an outstanding 52 countries.
About ComNav Technology
ComNav Technology develops and manufactures GNSS OEM boards and receivers for high precision positioning demanded applications. Its technology already been used in a wide range of applications such as surveying, construction, machine control, agriculture, intelligent transportation, precise timing, deformation monitoring, unmanned system. With a team dedicated for the GNSS technology, ComNav Technology is trying its best to supply reliable and competitive products to worldwide customers. ComNav Technology has been listed on the Shanghai Stock Exchange (Science and Technology Board), securities :ComNav Technology (Compass Navigation), Stock code: 688592.
About SinoGNSS®
SinoGNSS® is the official trademark of ComNav Technology Ltd., registered in People's Republic of China, EU, USA and Canada. All other trademarks are the property of their respective owners.