Logo Design Contest of ComNav Technology 2019
---
Shanghai, China, March 20th, 2019— ComNav Technology has today launched its first Logo design contest. SinoGNSS worldwide users are invited to follow us on Facebook. Submit your logo and share your creative ideas until 1st May 2019 to win a share of the massive $12,000(USD)prize pool.
You are encouraged to show all kinds of logo related to SinoGNSS image. Please read carefully before sending your logo.
Eligibility: SinoGNSS users worldwide
Awards and Prizes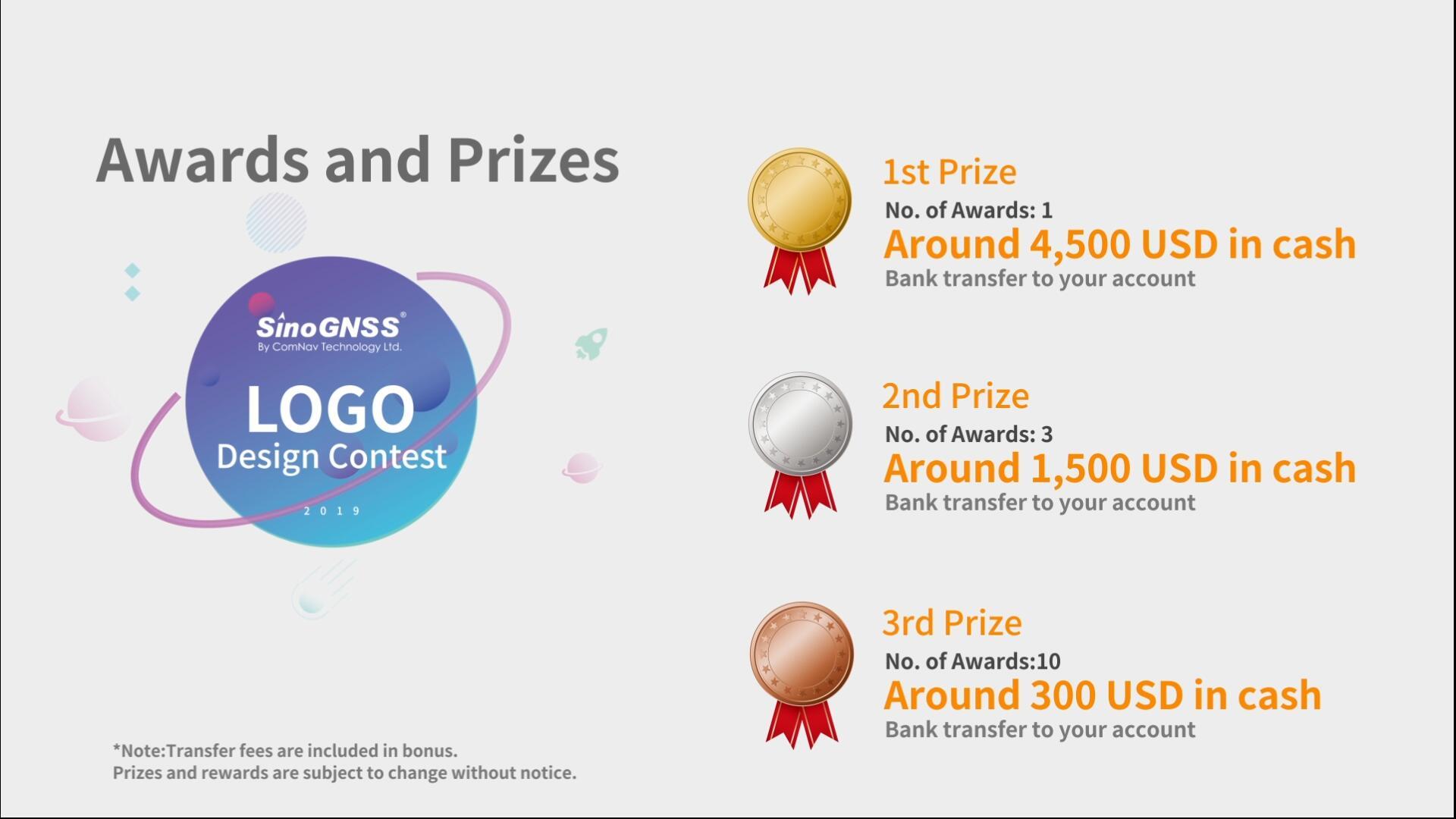 Logo Design Contest of ComNav Technology 2019
How to Enter
1. Follow ComNav Techcnology on Facebook.
2. Send your Logo along with detailed description to luweijie@comnav.cn.
3. Vote for your favorites. Give your likes to works of finalists we list and publish on Facebook.
Note: An auto-reply email will be sent to you after we receive your submission.
Entry Period
18th March 2019 –1st May 2019 (China standard time)
Submission Rules
You can submit your Logo if,
Your logo describes a clear theme, has a positive content, a simple and noble style.
Your logo meets the needs of market, accords with the image of ComNav Technology, has rich connotation and is convenient for international promotion.
Your logo is cleverly constructed, easy to recognize and remember.
Your logo has strong visual effects and is added aesthetic feelings to sense.
Your logo is positive and fashionable, artistic and infectious. And stick out profound thoughts.
Either hand drawn or PS-made logo will be acceptable as long as the content reflects your thoughts and moral of ComNav Technology image.
Once we receive your logo, our professional design team and leaders from different departments will give fair and objective marks accordingly.
Judging
• Every piece of work will be carefully reviewed by our professional design team and relevant department leaders. They will give a fair judgement and vote 1st and 2nd prize.
• 3rd prize winners will be voted by public. We will post those works in the top ranks. Everyone can give their likes to those works. Awards are decided according to the number of likes. If two posts own the same likes, they will be awarded the same prize. Top 10 most-liked works will be awarded our 3rd prize.
• Rankings will be considered comprehensively by domestic websites (such as wechat) and foreign websites (such as Facebook).
• After the judging concludes, the winner list will be published on ComNav Technology official Website and public platforms by 15th May 2019.
Disclaimers
• Copyright: ComNav Technology reserves the right to disqualify any entrant who posts logo that are fraudulent, infringes third party intellectual property rights, is misleading, deceptive or generally damaging to the goodwill or reputation of ComNav Technology.
• Usage Right: All creative materials must be original. If any idea is adapted from other sources, it should be given a clear indication. All participants should enjoy full copyright of submitted works. Once submitted, works will not be returned. Once adopted, all rights belong to ComNav Technology.
• Brush ticket behavior is rigidly prohibited. Once discovered, award vote and qualification will be immediately canceled.
For more details:https://youtu.be/B08sE53Wixs
https://www.facebook.com/ComNav-Technology-Ltd-1462998887326179/
About ComNav Technology
ComNav Technology develops and manufactures GNSS OEM boards and receivers for high precision positioning demanded applications. Its technology already been used in a wide range of applications such as surveying, construction, machine control, agriculture, intelligent transportation, precise timing, deformation monitoring, unmanned system. With a team dedicated for the GNSS technology, ComNav Technology is trying its best to supply reliable and competitive products to worldwide customers. ComNav Technology has been listed on the Shanghai Stock Exchange (Science and Technology Board), securities :ComNav Technology (Compass Navigation), Stock code: 688592.
About SinoGNSS®
SinoGNSS® is the official trademark of ComNav Technology Ltd., registered in People's Republic of China, EU, USA and Canada. All other trademarks are the property of their respective owners.