ComNav Technology showcases in FIG Hanoi Working Week 2019
---
Shanghai, China, April 30, 2019—With the theme of "Geospatial information for a smarter life and environmental resilience", the FIG Congress 2019 took place at Hanoi National Convention Center, bringing the international community of surveying and spatial professionals together. Cooperate with our local partner, ComNav Technology showcase the advanced GNSS solutions widely used in the local market.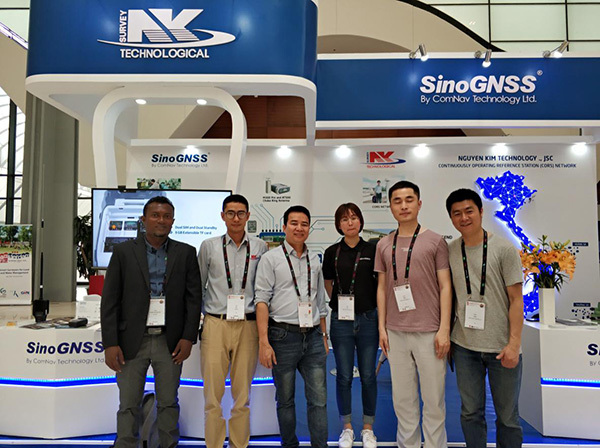 ComNav Technology's Booth
During the week-long conference, we displayed high-performance GNSS receiver, high-precision piling solution, as well as our CORS Solution in Vietnam market, which attracted most of visitors' attention. Our CORS solution contains M300 Pro GNSS receiver, AT500 chock ring antenna and powerful network software CDC.Net which can continuous offer stable and real time correction data for precise positioning applications. In Vietnam, our dealer has built 130 stations and provide high quality services to customers. Except from the CORS solutions, we also show our brand-new GNSS receivers, it is extremely compact designed receiver, tracking all currently GNSS and planned Glogal GNSS constellations, as well as L-band capability, it largely improves positioning reliability and stability, especially in obstacle environments.
Visitors attracted by ComNav products and solutions
During the event, we also gather our dealers who come to attend this conference. They appreciated our technology innovation and professional technical support, and gave good feedback of GNSS products and solutions. Along with global BDS construction and the development of GNSS industries, we believe that ComNav Technology will keep increase brand awareness with better solutions and services around the world.
About FIG
FIG is the premier international organization representing the interests of surveyors worldwide. It is a federation of the national member associations and covers the whole range of professional fields within the global surveying community. It provides an international forum for discussion and development aiming to promote professional practice and standards.
About ComNav Technology
ComNav Technology develops and manufactures GNSS OEM boards and receivers for high precision positioning demanded applications. Its technology already been used in a wide range of applications such as surveying, construction, machine control, agriculture, intelligent transportation, precise timing, deformation monitoring, unmanned system. With a team dedicated for the GNSS technology, ComNav Technology is trying its best to supply reliable and competitive products to worldwide customers. ComNav Technology has been listed on the Shanghai Stock Exchange (Science and Technology Board), securities :ComNav Technology (Compass Navigation), Stock code: 688592.
About SinoGNSS®
SinoGNSS® is the official trademark of ComNav Technology Ltd., registered in People's Republic of China, EU, USA and Canada. All other trademarks are the property of their respective owners.