ComNav Technology Released Long Range U70 Datalink Module for Integrations
---
Shanghai, China, May 21th 2021 — ComNav Technology released the U70 data link module globally today, which is designed with long work range, low power consumption, SMD and small size for easy integrations.
As a datalink module, U70 supports RX/TX work modes with the entire range of 410-470 MHz and 12.5 kHz channel spacing, which can fully meet the demands of users in different frequency bands.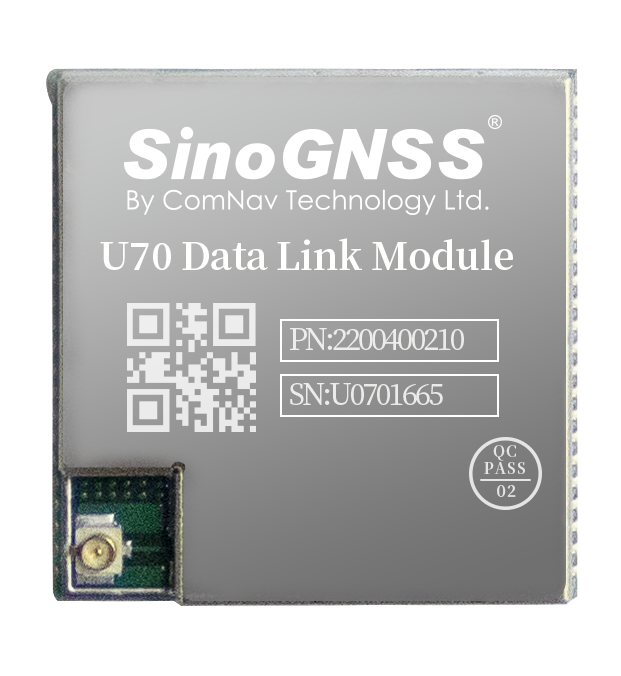 Different from other datalink products, the U70 data link module supports LoRa (Long Range) modulation technique, providing users with a longer working range while ensuring lower power consumption.
The U70 datalink also supports RTK corrections above 1Hz for multi-constellation receivers. With 30mm×30mm small size, low power consumption and surface-mounted design, the U70 is specially designed for GNSS related integrations.
The U70 datalink module is available now. Customers can purchase U70 from ComNav Technology authorized local distributors or ComNav Technology directly.
Please click the following link for more information about U70 datalink modules:
http://www.comnavtech.com/U70.html
About ComNav Technology
ComNav Technology is the major provider of GNSS OEM boards, receivers and high precision positioning solutions, encompassing product development, and marketing. Its technology and products have already been applied in a wide range of fields such as surveying, construction, machine control, agriculture, intelligent transportation, precise timing, deformation monitoring, and unmanned system. With its experienced team and innovational spirit, ComNav Technology is always trying best to provide reliable and competitive products to global customers. ComNav Technology has been listed on the Shanghai Stock Exchange (Science and Technology Board), securities :ComNav Technology (Compass Navigation), Stock code: 688592.
About SinoGNSS®
SinoGNSS® is the official trademark of ComNav Technology Ltd., registered in People's Republic of China, EU, USA and Canada. All other trademarks are the property of their respective owners.