ComNav Technology Released Unmanned Aerial Mapping Solution
---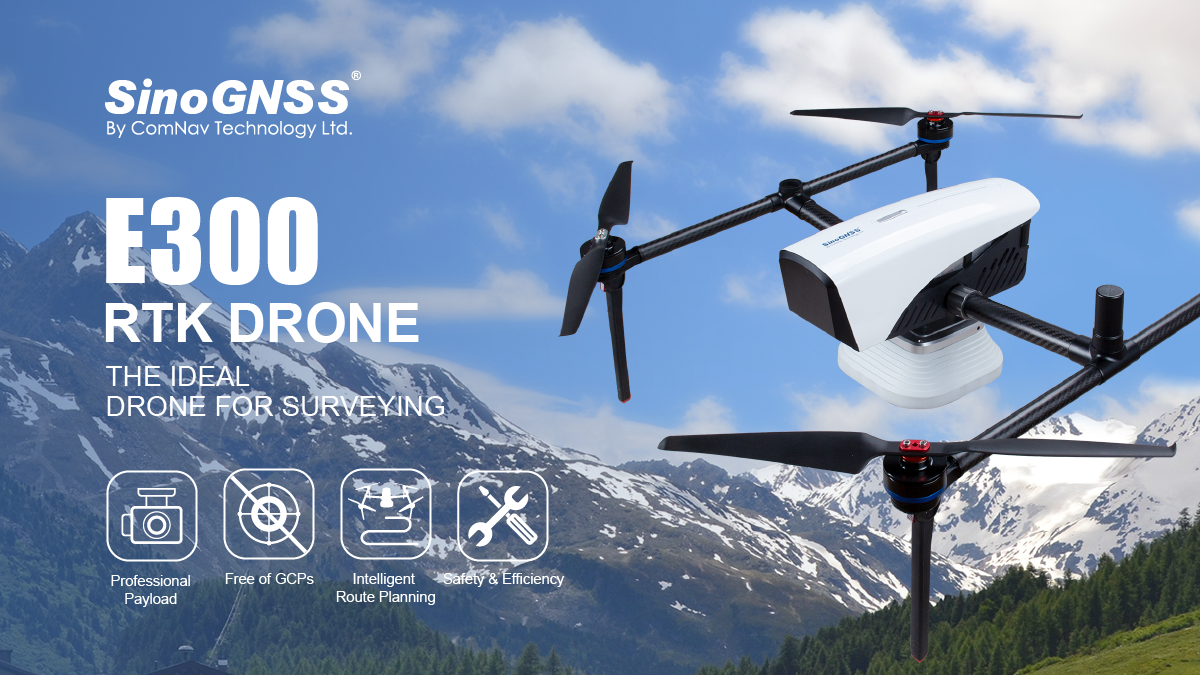 Shanghai, China, March 4th, 2022 —Based on the K8 platform, ComNav Technology released a powerful and reliable UAV solution capable of photo position at centimeter-level, providing high-precision results for the users.
The Unmanned Aerial Mapping solution consists of an E300 RTK drone and an optional camera as well as flight control software.
Featuring high accuracy, strong compatibility, long endurance, high performance, and easy workflow, it can meet the requirements of many different applications, including topographic survey, urban construction, forestry investigation, emergency rescue, 3D modeling, mining surveying, etc.
High Accuracy
E300 RTK drone embedded with high precision K8 GNSS module, supporting GPS L1/L2/L5, BeiDou B1/B2/B3/B1C/B2a, GLONASS L1/L2, Galileo E1/E5-a/E5-b/AltBOC/E6, QZSS L1/L2/L5. With Quantum III Technology, K8 GNSS module provides reliable and stable RTK positioning results. The professional Post Processing Kinematic software Compass Solution support the full-constellation calculation, providing accurate positioning results. RTK/PPK is the dual backup, one as a failsafe for another, to ensure the acquisition of data. The in-built antenna offset the correction, thus, further increasing the precision of photo position. What's more, EVENT Synchronization Technology can reduce camera trigger error, ensure the high performance of the solution.
Strong Compatibility
Featuring a carrying capacity of 3 kg, the E300's payload bay is compatible with a wide range of cameras, including C20, C50, LiAir VH2, and others. Payloads can be quickly and easily swapped in the field for maximum versatility, which can meet the requirements of different applications.
Apart from supporting standard Ntrip protocol, E300 is compatible with all the base station and CORS system of different brands.
Long Endurance
The E300 is characterized by an ultra-efficient aerodynamic design and can reach 60 minutes flight without payload and 50 minutes with basic payload to cover areas with a maximum 10 km radius per flight. In one flight, E300 can map around 0.62km² in1.5cm/px GSD with one battery.
High Performance
Based on intelligent recognition algorithms, E300 is able to capture high-resolution images consistently even in complex environments.
Moreover, E300 adopts multi-path redundancy design with key modules for safety.
With RTK.PPK, The solution can provide centimeter-level positioning results without ground control points (GCPs), which also saves time during the operation.
Easy workflow
One side, the E300 RTK drone features a simplified design for easy rapid assembly within 1 minute while still providing excellent stability and vibration resistance.
Another side, the solution is supported by ComNav self-developed flight control software with a clear interface, easy workflow, powerful fight control capability, which can completely satisfy the requirements of high-efficiency, high-quality, and high-precision aerial survey operations.
The Unmanned Aerial Mapping Solution is available now. Contact us immediately to learn more details about products. Or purchase now from the local distributors.
Please click the following link for more information:
Unmanned Aerial Mapping Solution
About ComNav Technology
ComNav Technology is the major provider of GNSS OEM boards, receivers and high precision positioning solutions, encompassing product development, and marketing. Its technology and products have already been applied in a wide range of fields such as surveying, construction, machine control, agriculture, intelligent transportation, precise timing, deformation monitoring, and unmanned system. With its experienced team and innovational spirit, ComNav Technology is always trying best to provide reliable and competitive products to global customers. ComNav Technology has been listed on the Shanghai Stock Exchange (Science and Technology Board), securities :ComNav Technology (Compass Navigation), Stock code: 688592.
About SinoGNSS®
SinoGNSS® is the official trademark of ComNav Technology Ltd., registered in People's Republic of China, EU, USA and Canada. All other trademarks are the property of their respective owners.