ComNav Technology actively promote the Belt and Road Initiative in BDS industrialization on 8th China Satellite Navigation Confe
---
Shanghai, China, May 27, 2017—From May 23th to 25th, The 8th China Satellites Navigation Conference (CSNC 2017) and exhibition was held at the National (Shanghai) Center for Exhibition and Convention. Meanwhile, in advancing the Belt and Road Initiative in BDS industrialization, the committee organized the first session of China-Arab States BDS Cooperation Forum (CASBCF) on May 24th, 2017. ComNav Technology, as one of Chinese GNSS delegates, attended BDS Forum and displayed the latest GNSS technology in CSNC, 2017.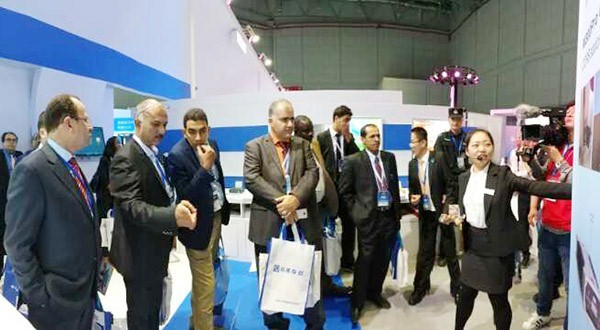 Delegations from over 20 Arab States visited ComNav Technology booth
Moreover, Mr. Mohammed, Secretary General of Arab Information and Communication Technologies Organization, and delegations from over 20 Arab States visited ComNav Technology booth, recognized by our cutting-edged GNSS products and solutions in areas of land survey, precision agriculture, intelligent transportation, especially the monitoring project of Kuwait national bank.
ComNav Technology's staff is introducing GNSS products
With global construction of BeiDou Satellite Navigation system, we continues to put top priotiry on innovation and quality of ComNav Technology's GNSS products, helping worldwide land survey end users, system integrator and solution providers achieve their high-accuracy positioning objectives.
About ComNav Technology
ComNav Technology develops and manufactures GNSS OEM boards and receivers for high precision positioning demanded applications. Its technology already been used in a wide range of applications such as surveying, construction, machine control, agriculture, intelligent transportation, precise timing, deformation monitoring, unmanned system. With a team dedicated for the GNSS technology, ComNav Technology is trying its best to supply reliable and competitive products to worldwide customers. ComNav Technology has listed on the China National Equities Exchange and Quotations (NEEQ), Securities: ComNav Technology (Compass Navigation), Stock code: 833972.
About SinoGNSS®
SinoGNSS® is the official trademark of ComNav Technology Ltd., registered in People's Republic of China, EU, USA and Canada. All other trademarks are the property of their respective owners.